Custom Domains
Using your own domain name
By default all Wunderbucket sites are served using the wunderbucket.dev root domain. This is fine for testing and development but when it's time to go-live with your site, you'll probably want to start using a custom domain like: my-cool-domain.com.
First you'll you'll need have purchased the domain from a registrar. The costs for this vary depending on the domain and the registrar.
There are two different kinds of custom domains that you can use for Wunderbucket sites: Root Domains and Sub Domains.
| Root Domains | Sub Domains |
| --- | --- |
| A domain like my-domain.com. Requires you to use Name Server (NS) DNS records. | A domain like sub.my-domain.com. Easier to set up and requires a CNAME DNS record. |
1. Switch the site mode Dev to Live
The first step in adding a custom domain to your site is to switch the site mode from "Dev" to "Live" in the site settings window: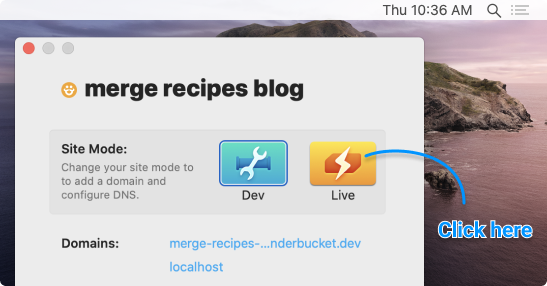 2. Enter the domain you want to use
In the popup window, enter the domain that you want to use for your site. This can be a root domain or a sub domain. Note: If you enter a sub-domain, Wunderbucket will assume that you will be hosting your DNS yourself and using a CNAME record.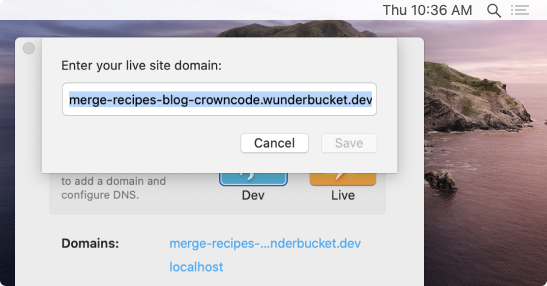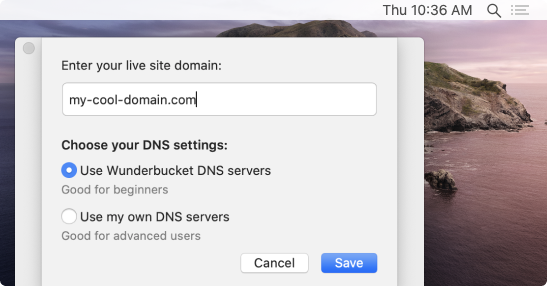 If you want to use a root domain and your own DNS service, you will need to have a DNS service that supports CNAME Flattening, ANAMES, or ALIAS records. Some of the services that support this are:
3. Update your DNS records
After you save your changes Wunderbucket will return the DNS values that will work for your domain.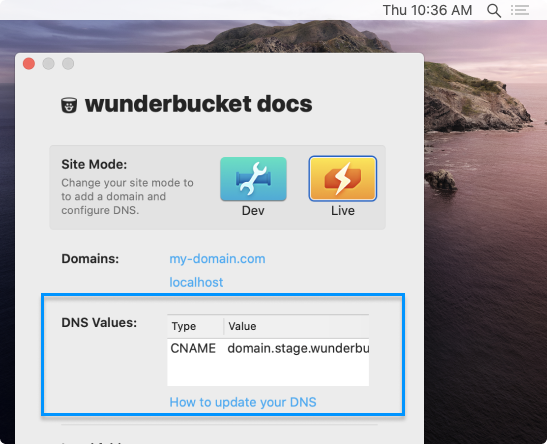 Log in to your domain register and update the DNS settings so you have a record with the correct type and correct value.
Here's example of what entering that value looks like in CloudFlare:

We're here to help!
If you're uncomfortable with any of the instructions, ask a friend who's done this before or reach out to us at support@wunderbucket.io.