HTTPS & SSL
Serving your Wunderbucket site securly
SSL encryption allows your visitors to trust your site and secures the traffic between their browser and your site. When you serve content over SSL, your visitors will know that you took the extra step to secure the visit.
Free SSL for sites using Wunderbucket
We will generate a SSL certificate for every custom domain that you point to our servers. You don't need to purchase or upload a certificate from a third party.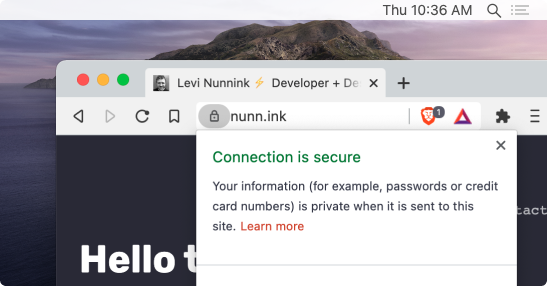 Note: Our sites uses SSL certificates generated by Let's Encrypt.
Learn more about configuring domains →
Using your own DNS and SSL
If you want to control your own DNS, you will need to create a free CloudFlare account. Once you have done this, read the following guide to configure your domain with Wunderbucket. CloudFlare can automatically add SSL to your Wunderbucket site for any domain you host with it.
Hosting your own SSL with Wunderbucket (Agency customers)
If you would like to host your own SSL certificates with your Wunderbucket domains, please get in touch with us and we can install and configure the certificates for a one-time fee. (This requires an Agency account.)